Welcome to Anse Chastanet Resort, St. Lucia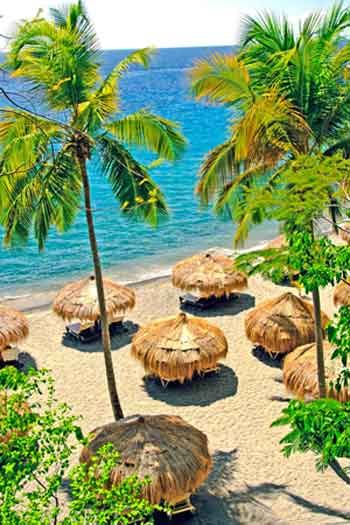 What were Caribbean hotels like before trade winds were replaced by blasts of air conditioning, when morning exercise was a walk on the beach and when you sat watching the sunset instead of cable TV? You can still find that Classic Caribbean at Anse Chastanet Resort on St. Lucia's quiet southwestern coast where two magical peaks, the Pitons, leap from the sea and the mountains are covered with luminous greenery.
Architect owner Nick Troubetzkoy believes passionately in nature. So he created a hotel that makes the foliage and the flowers, the perfumes and the peaks, the sea and the bird song an integral part of your vacation experience. The estate encompasses 600 lush tropical acres bordering two soft sand beaches. Not only do you get a World Heritage Site anchored by the twin peaks on land, the resort's two crystal-clear bays are part of a designated marine reserve protecting miles of colorful coral reefs teeming with tropical fish.
With such a unique setting as his canvas, Nick Troubetzkoy was inspired to design a one-of-a-kind resort. He was committed to an environmentally conscious development before "green" became fashionable.
A dozen rooms are tucked in behind the coconut palms that line the beach and the remainder tiptoe up a flower decked hillside. To make the most of the panoramic views and the refreshing tradewinds octagonal whitewashed cottages come with wraparound flower draped balconies and louvered windows.
Extra-large deluxe and premium suites underscore the visionary, innovative, sometimes whimsical side of Nick Troubetzkoy: in one suite, the balcony is built around a full-grown red gommier tree; in another a flamboyant tree drapes its red blossoms around the balcony. Some have their 4th wall open entirely to the vistas, yet are completely private.
Anse Chastanet's ever growing art collection provides a visual feast of its own. There are impressive wooden sculptures and plaques, earthy burlap compositions, painted "sky ceilings" and vibrant acrylic paintings invoking memories of Matisse and Picasso.
And while the sensuous seclusion of the rooms provides some guests with the perfect excuse for lolling away the day on the balcony, others head out to partake in the many activities on offer; yoga, snorkeling, scuba diving, tennis, sunset sailing, sea kayaking or jungle biking, hiking and bird-watching among the ruins of an 18th century colonial plantation.
The less actively inclined simply do nothing, lie on the beach or get pampered in the resort's spa, Kai Belté. There is a casual beachside bar and restaurant; on the hillside, a panoramic hillside lounge and two treehouses provide the romantic setting for candlelit dinners, with musical backdrops by local entertainers. Tranquility, Romance and Adventure at Anse Chastanet.
More information on Anse Chastanet Resort can be found on their website: www.ansechastanet.com 
Birdwatching at Anse Chastanet
Guests staying at Anse Chastanet Resort Saint Lucia will have many opportunities for birdwatching all around the resort's 600 acre estate, especially in the Anse Mamin plantation. The estate guides are trained birdwatching guides. Birdwatching activities are offered on the daily/weekly excursion schedule and can be arranged à la carte whilst at Anse Chastanet.
Guests who wish to pre-book a birdwatching package can book the Anse Chastanet Birdwatching Package: The package includes five days of specific excursion activities tailored to provide the best experiences available for birdwatching enthusiasts, taking full advantage of the Resort's location on the southwest coast near the town of Soufriere and the world famous Pitons. As a UNESCO World Heritage Site, the area is a notable attraction to eco-minded tourists from around the world. Excursion activities begin with a visit to the Anse Mamin Plantation, the 400 acre historical estate which is part of the resort property.
Trails within this lush coastal tropical estate with its 18th century plantation ruins are ideal for birding. The birdwatching package also includes a visit to the Millet Bird Sanctuary where over 30 bird species can be seen, including five endemic species: the Saint Lucia Parrot, Saint Lucia Black Finch, Saint Lucia Warbler, Saint Lucia Oriole and Saint Lucia Pewee. Participants will also enjoy Saint Lucia's lush rain forest on the Des Cartier Trail. Following ridge tops at about 1,800+ feet above sea level, this relatively easy 1.5 mile loop hike takes you through one of the wettest tropical forests on earth receiving as much as 150-200 inches of rain annually. The Saint Lucia Parrot is readily encountered along this trail. The package also features a hike to the top of Gros Piton, one of Saint Lucia's two iconic mountains. A Dolphin & Whale Watching boat tour will let experience sea birds along the way. Also included is a visit to the Diamond Falls & Botanical Gardens and an enjoyable easy hike on the majestic Tet Paul Nature Trail.
Anse Chastanet Resort's 5 day birdwatching activities package, all enjoyed on a private basis, can be added to any reservation at Anse Chastanet or Jade Mountain for US 695 per person (minimum 2 persons), plus 10% VAT. Please contact the resort via email ansechastanet@ansechastanet.com
Birds seen as Anse Chastanet
When birdwatchers consider a new destination for their next holiday, one of the first questions they ask is "what are the speciality birds of the area?". High on their list of priorities will be birds that are endemic to that location – in other words, they are found nowhere else on earth. St Lucia is blessed with five such species and four of them can be found within the grounds of Anse Chastanet with the fifth located not too far away.

LESSER ANTILLEAN HUMMINGBIRD
Firstly there is the St Lucia Pewee – a delightful small flycatcher; green on top and orange underneath which sallies out from its favored perch in search of prey before returning to the same branch. These can be found both along the entrance track to the resort and also in the estate at Anse Mamin. Next, the St Lucia Warbler, both brightly colored and inquisitive; blue-gray above with bright yellow under-parts and black facial markings, it is widespread throughout the grounds.
Not quite as numerous, but both dramatic and boldly colored is the yellow and black St Lucia Oriole. Back in 1987, there were considered to be less than 60 pairs in existence, however there has been a considerable recovery since and probably two different pairs can be found at Anse Mamin.
Finally, there is "Jacquot," our national bird, officially known as the St Lucia Parrot or Amazona Versicolor. Threatened by extinction in the 80′s, there now is a flourishing population of perhaps 1,000 birds normally found in the nearby rainforest and selected areas.
Whilst not strictly endemic, two other species easily found on property only occur on one or two nearby islands: the Lesser Antillean Saltator and the Gray Trembler. Both are easily found in the damp lowland deciduous estates and the drier forested slopes.

SAINT LUCIA PARROT
However, you don't have to hike into the woods to find a wealth of colorful birdlife. Both Green and Purple-throated Caribs together with their tiny relative the Antillean Crested Hummingbird can be found taking nectar from the flowerbeds surrounding the accommodation areas; both Zenaida Doves and Common Ground-Doves amble along the walkways in the early mornings whilst Scaly-naped Pigeons, Scaly-breasted Thrashers, Tropical Mockingbirds and Gray Kingbirds are ever present along the tree-lined roadways. Overhead, both Broad-winged Hawks and American Kestrels keep an eye out for prey; Magnificent Frigate birds, or "Cisseau" as they are known locally simply hang in the air looking for a free meal whilst in the restaurant, if you don't keep a watchful eye on your butter or jam, those piratical Lesser Antillean Bullfinches and Bananaquits will enjoy a stolen breakfast.
And a final note on the subject of "special birds." Keen "birders" will be well aware just how shy and elusive Mangrove Cuckoos are to see – there is nowhere in the world where this species is easier to find than at Anse Chastanet.